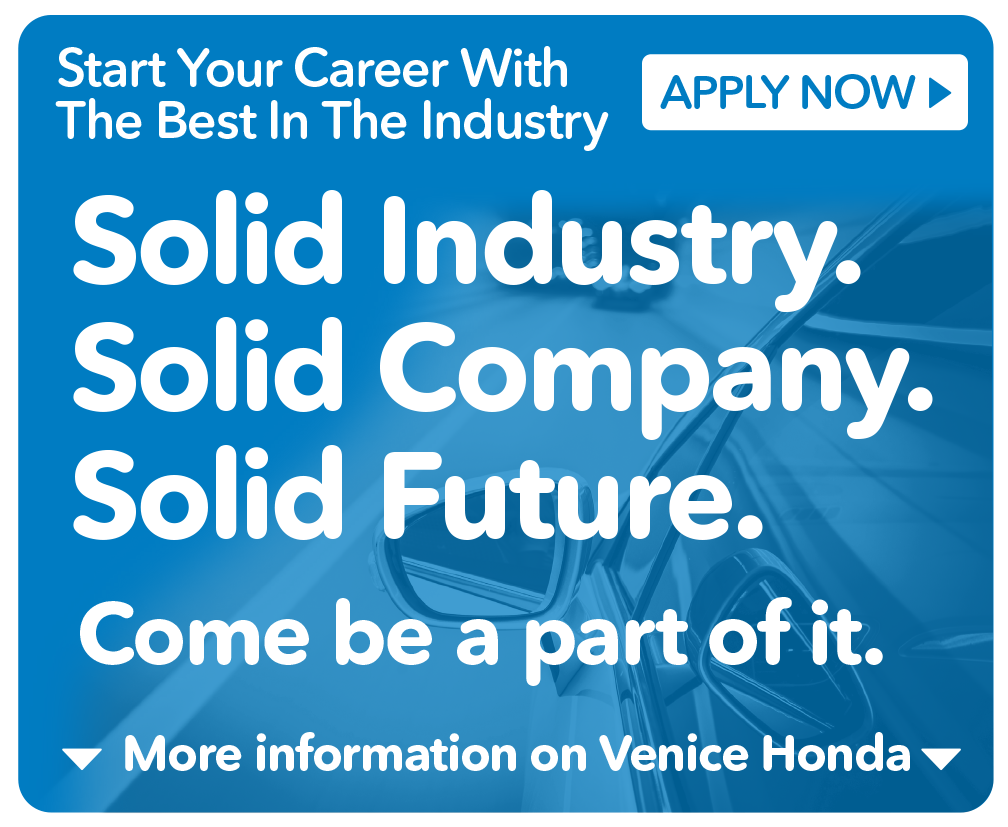 Honda Career Opportunities in Venice, Florida
If you want to have a career in a solid industry with a great company and have a secure future, come be a part of Venice Honda in Florida today. With the automotive industry enjoying excellent growth, and expected to continue that upward trend, now is the perfect time to begin your career with Venice Honda near Sarasota, Florida.
Why start a career in the Automotive Industry?
Along with the recent growth of the automotive industry, new vehicle sales are expected to grow to even more in the coming years. The National Automotive Dealers Association also predicts that as interest rates stay low and gasoline prices stabilize, the economy will continue to grow, thus encouraging new-vehicles sales to rise even more.
Is a Career at Venice Honda in Florida Right for You?
Whether you're new to the job market or just looking for a change, we encourage you to learn more about a position with us. A career at Venice Honda in Florida, not only means receiving attractive employee benefits programs and top-end industry compensation, but you'll also get to be a part of a trusted and reputable company in Venice, FL. You'll be able to learn new career skills and depending on your desired position, have opportunities to earn bonuses.
If you want a career where you'll actually enjoy coming to work, be sure to check out job openings at Venice Honda in Florida. We offer career opportunities in a variety of areas, including Sales, Service, Parts, Finance as well as Admin/Clerical positions.
We encourage you to apply for an open position today!

Apply Now